Click the pins on the map below to discover the plaques in your local area and beyond. Discover the history of your own community!
Architecture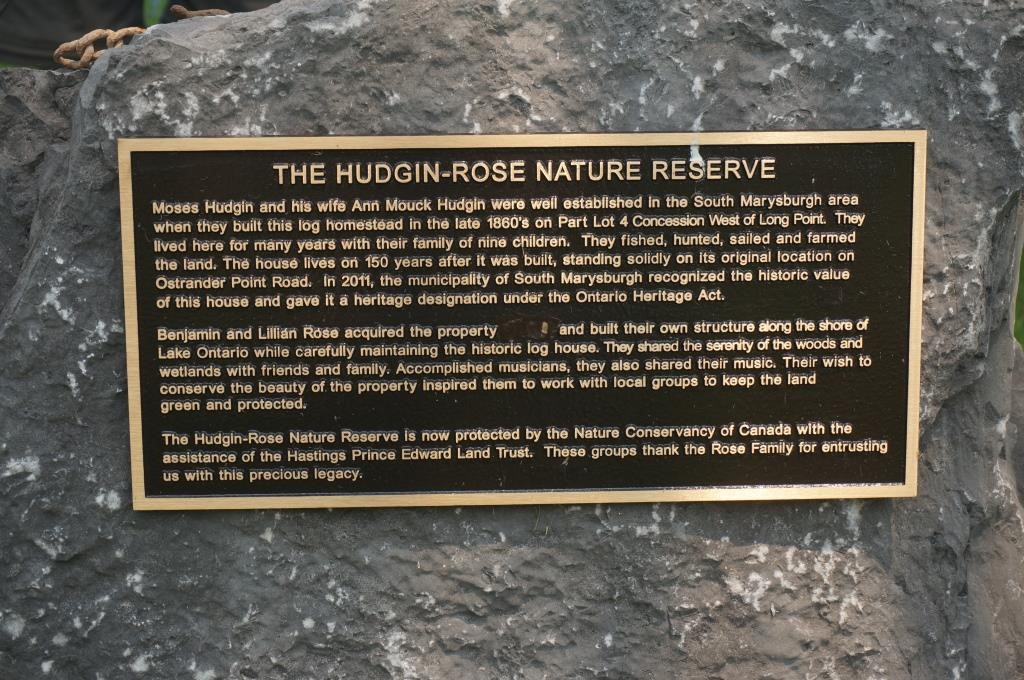 The Hudgin-Rose Nature Reserve
Moses Hudgin and his wife Ann Mouck Hudgin were well established in the South Marysburgh area when they built this log homestead in the late 1860's on Part Lot 4 Concession West of Long Point. They lived here for many years with their family of nine children. They fished, hunted, sailed and farmed the land. The house lives on 150 years after it was built, standing solidly on its original location on Ostrander Point Road. In 2011, the municipality of South Marysburgh recognized the historic value of this house and gave it a heritage designation under the Ontario Heritage Act.
Benjamin and Lillian Rose acquired the property and built their own structure along the shore of Lake Ontario while carefully maintaining the historic log house. They shared the serenity of the woods and wetlands with friends and family. Accomplished musicians, they also shared their music. Their wish to conserve the beauty of the property inspired them to work with local groups to keep the land green and protected.
The Hudgin-Rose Nature Reserve is now protected by the Nature Conservancy of Canada with the assistance of the Hastings Prince Edward Land Trust. These groups thank the Rose family for entrusting us with this precious legacy.
Location
43.90816°N, 76.98925°W. From Route 13, on the south shore of South Bay, turn south on Babylon Road. After Babylon Road bends to the east, turn south again on Ostrander Point Road.
The small plaque is on the wall of the house, the large one is on a rock nearby.
Notes
- The house was saved from further deterioration by a new roof in xxxx.
- Restoration of the building is beginning in 2021. It will serve as a Field Studies centre.
- It is the only building of its type remaining in Prince Edward County.
The Hudgin and Rose families, and the Hudgin Log House....
READ MORE